Evil West
In Evil West you experience the bizarre times of the Wild West, which in this case geïnfested with vampires. It's up to you to eradicate them and keep humanity safe. Read what we thought of this classic period game in a different guise in this review.
The story takes you into the adventure by starting right away with action. A train turns out to contain supplies such as blood and fresh bodies used by vampires to survive. This train gets derailed and you have to destroy the remains. During this introduction you mainly learn the game's controls and how the gameplay works.
You mainly fight the dark forces by using your fists. By dealing simple blows, solid blows to send the enemy into the air or other moves to protect yourself, you must try to stay alive. Gradually you get weapons at your disposal, from a simple pistol for minimal impact, a rifle for shots at weak spots, a shotgun for a lot of short-range damage and more. You also get different powers for your fists and can choose different upgrades that make you stronger.
During the first hour you fight mostly deformed creatures that don't quite look like vampires, but soon you meet stronger and more dangerous vampire-like creatures. Soon we were overrun by these monsters making simple tactics suddenly not so effective. Using the environments and sometimes new powers, you can quickly overpower enemies.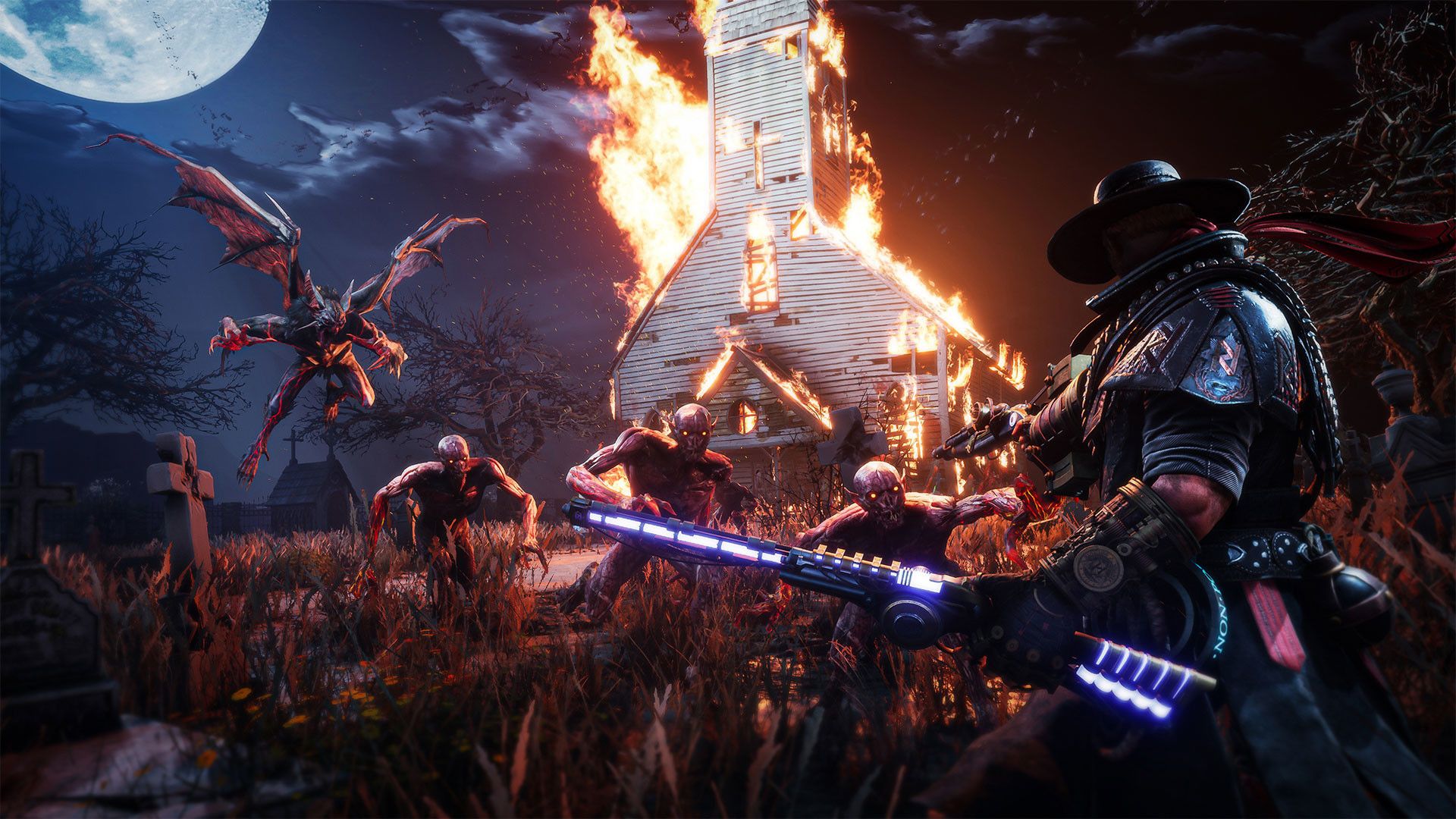 Evil West is at its core a nice simple game in which you fight a lot, with some extra weapons. Still, there are some issues that keep the game from being an absolute hit. For example, the cutscenes move very roughly and restlessly, making it difficult to have a good concentration and realize exactly what is happening. Also, sometimes the game feels a bit unfinished, for example we had to be attacked by a lot of enemies, but because the trigger for this fight hadn't started yet, the monster were idle and we had to walk past them before they became hostile.
In the process, the game doesn't quite flow smoothly into a fight, such as an Bayonetta or Devil May Cry does. Attacks don't seem to work together, so there is an obvious animation pause between moves. Also, when you want to dodge, you can't do so until the previous animation has ended, something that can sometimes lead to your downfall. In terms of gameplay, it does seem to have this look and feel, so it's a shame that it doesn't quite do it justice.
Evil West is an entertaining action game with a nice theme and plays well in the core. Still, there are a few criticisms that keep it from being a high-flyer. The sometimes chaotic cutscenes, the somewhat cluttered cases and the lack of fluidity in battles unfortunately mean that there are better hack-and-slash games out there. Nevertheless, it is still a fun game to play, especially if you like the theme.
For this review, Evil West was played on a PC. The game is also available for PlayStation 5/4, Xbox Series X|S / One and PC.