Pentiment
Where Sony this year with Horizon: Forbidden West and God of War: Ragnarök released two blockbusters, competitor Microsoft has been deafeningly quiet all year. Only from next year the violence at the American console maker seems to be about to erupt. That is not to say that there is nothing at all to experience in terms of exclusive Xbox games, although Xbox owners have to make do with some smaller games in particular. Earlier this year Scorn and the excellent As Dusk Falls And next month High on Life on the schedule. Developer Obsidian Entertainment also released two games: Grounded had a full release earlier this year and now Pentiment appeared. What makes this narrative, historical adventure so special, you can read in this review.
At Pentiment We follow artist Andreas Maler in sixteenth-century Europe. He earns his money by making illustrations for manuscripts and has therefore come to a village to work. Soon you get to know its inhabitants; from farmers and villagers to the monks and nuns of the nearby monastery. During the first conversations you can give Andreas a background. So you can choose whether he has academic knowledge, what country he has lived in for a while and whether or not he is an enjoyer of life (alcohol and women). The first days pass quickly, but everything changes when a baron is murdered in the monastery. There is only n suspect, a monk, but Andreas does not believe he committed the murder. And so our artist goes in search of the true murderer.
You only have a few days to investigate the murder and question possible suspects. Each day consists of a number of day parts in which you can do some things. The next part of the day starts when you have lunch or dinner with the inhabitants, go to sleep or perform an action that takes a little longer. You will have to spend your time wisely. Most of your time will be spent walking around the village and monastery and talking to the various inhabitants. Not only does this help you learn more about the various inhabitants, but it can also give you new insights about the possible suspects. Again, how you talk to them is important and may even affect the course of the story. You will sometimes need their help in performing certain actions, but if Andreas is acting like a jerk, they may not want to help him at all.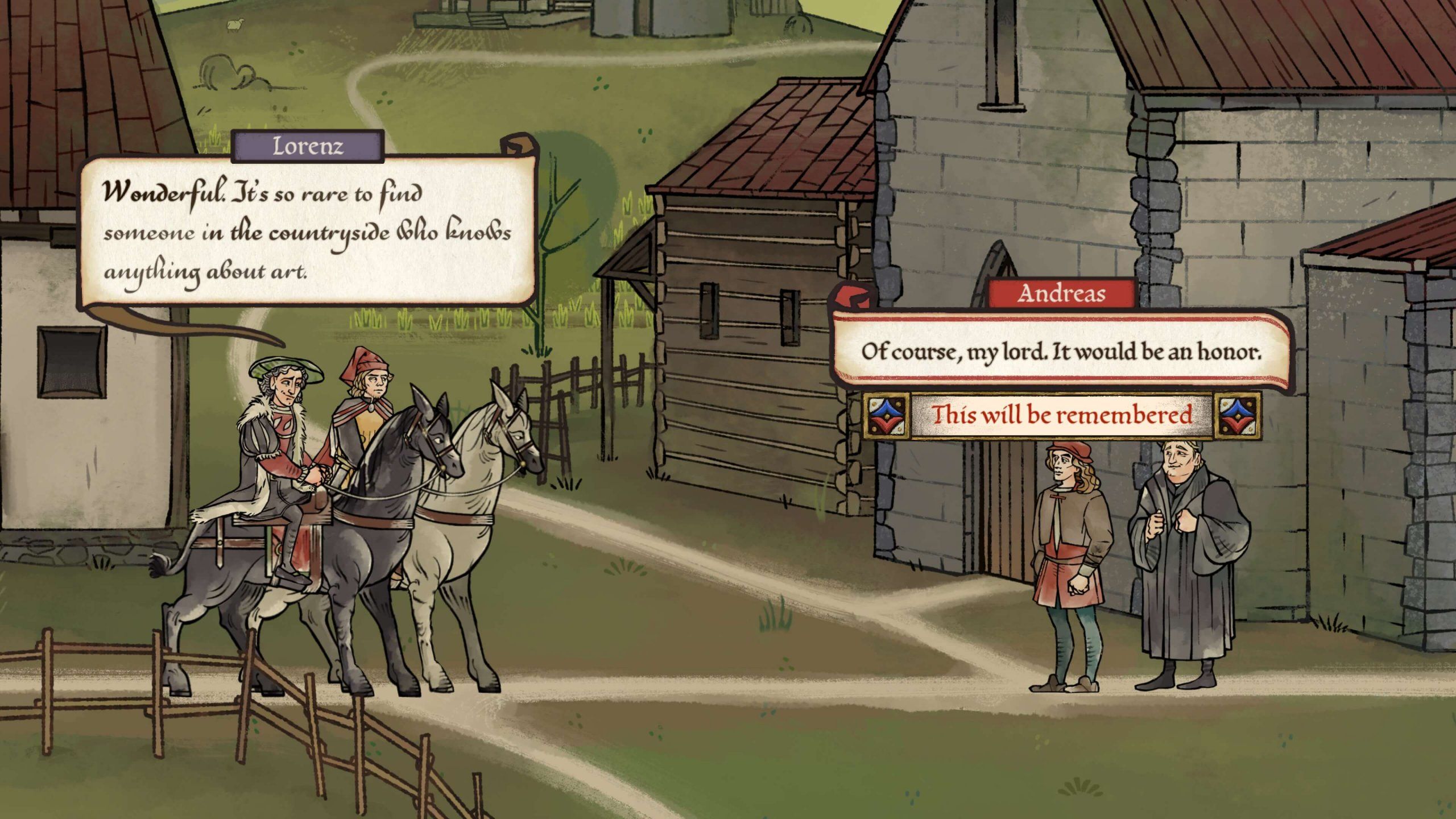 When the time comes Andreas will have to report to the archdeacon. Here you can then exhibit your findings from your own little investigation and point out possible other suspects. Again, this can have major consequences, which become clear when Andreas returns to the village after several years. Some people will not be happy about his return. The village itself has not been idle in all these years either. New residents have arrived, others have married and had a child or died. Then again, it's nice to chat with them to see what they've been through over the years. You start to care more about the inhabitants.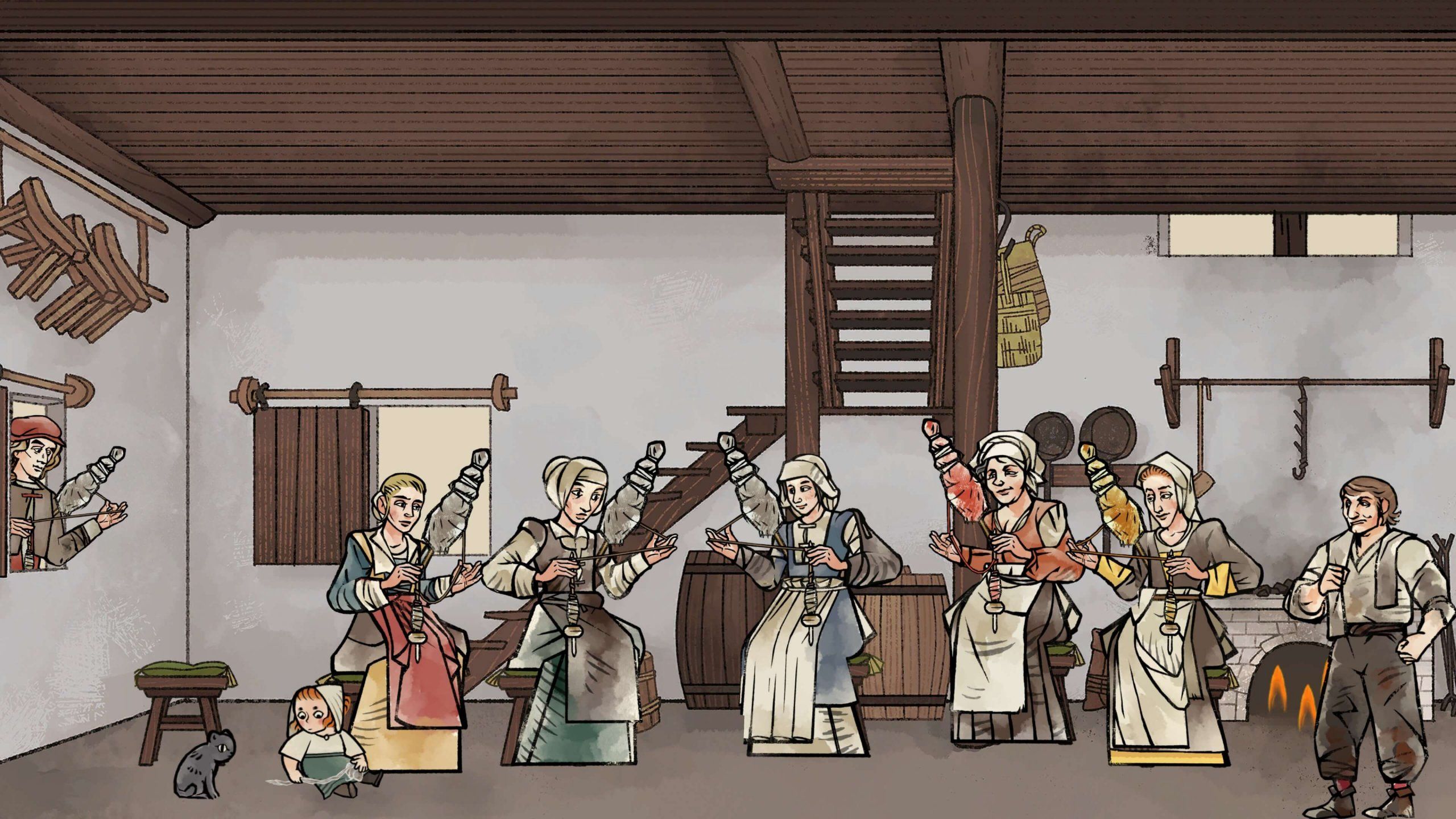 So the writing is spot on and the art style is good too. Pentiment contains a 2D world which nevertheless comes to life nicely. The story is told through dialogues that are shown to you in a kind of book form and contains beautiful illustrations from time to time. There are sometimes spelling mistakes that will be corrected and there will also be different fonts used to make clear the different ranks within the community. As it were Andreas writes down his life for us.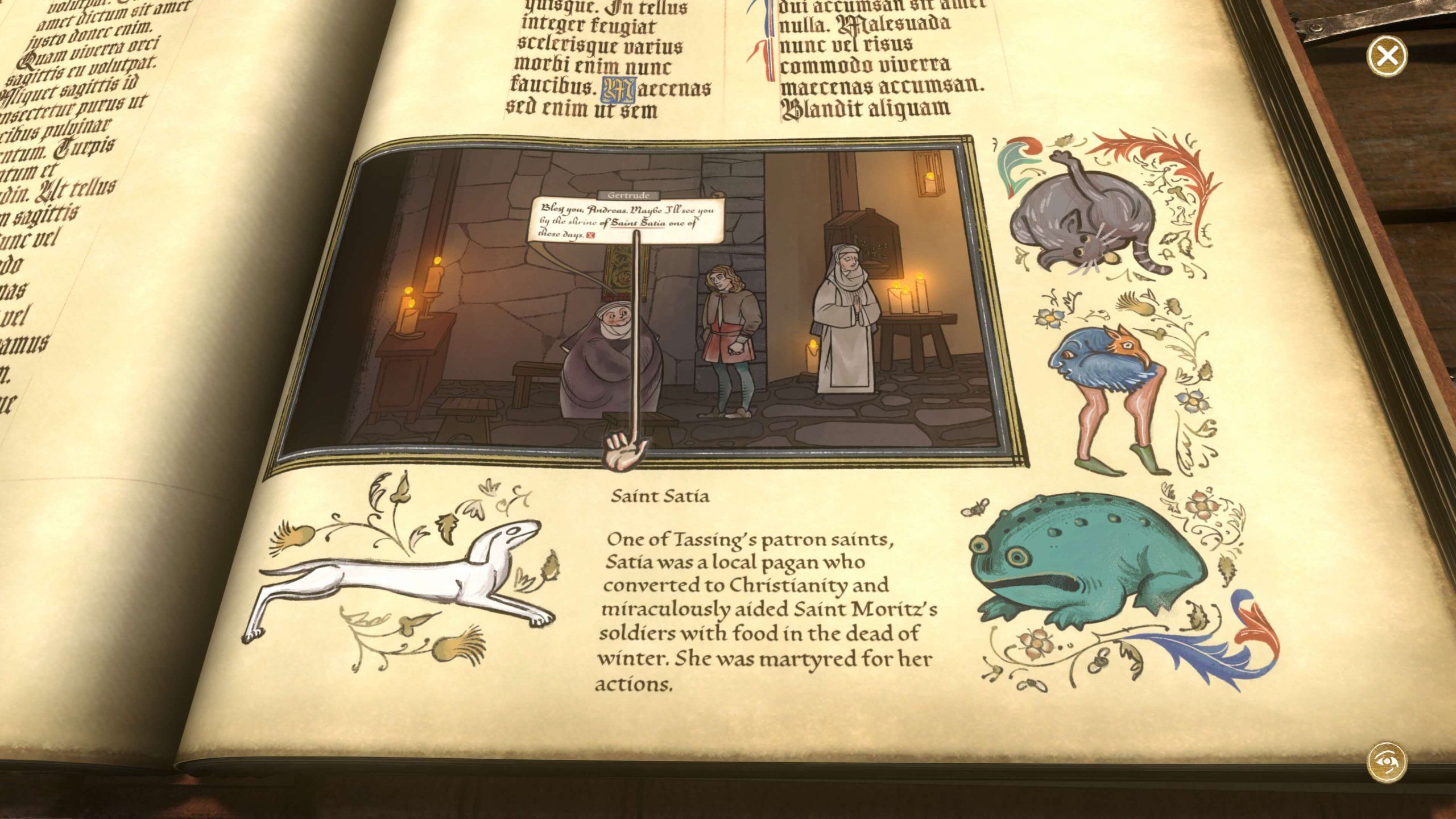 All of these facets make for an extraordinary adventure that probably won't be for everyone. These types of games obviously have a weakness and that is the lack of real gameplay. Just like Disco Elysium, New Tales from the Borderlands and Vampire: The Masquerade – Swansong, you are also in Pentiment mostly occupied with reading the dialogues and the pace is quite slow. The real gameplay just consists of some walking around the village and occasionally performing certain simple mini-games. But if you enjoy playing these types of games, then Pentiment highly recommended.
Pentiment was played on the Xbox Series for this review. The game is additionally available for Xbox One and PC, and is also playable via Xbox Game Pass.